The Survivalist 2 (Anarchy Rising)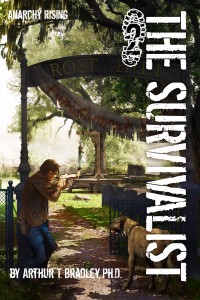 After the worst pandemic in mankind's history, anarchy threatens to break apart the United States. The government is years away from providing even the most basic necessities. Militias, gangs of convicts, and rogue soldiers face off in a violent free-for-all as they vie for power. Few safe havens remain. Big cities have been overrun with deformed survivors of the Superpox-99 pandemic. Smaller towns are being overtaken by authoritarians and lawless thugs. And congested interstates have become thoroughfares for desperate travelers and bandits seeking to capture women and supplies.
President Glass must face daunting challenges, completely unaware that some of her closest advisors are using unthinkable methods to have her removed. Their clandestine hunt for her eleven-year-old daughter, Samantha, intensifies, and the only person standing in their way is a ruthless convict who will stop at nothing keep the young girl safe.
Duty drives Deputy Marshal Mason Raines to leave the small town of Boone to discover the fate of his fellow lawmen. With his faithful wolfhound, Bowie, at his side, he crosses paths with desperate refugees, a bloodthirsty hangman, and savage cannibals. Only as he discovers the horrific truth, does he realize that he may be the last of his kind.
While I wrote this book to be post-apocalyptic popcorn fun, I have also tried to include valuable real-world preparedness tips. If you are not fully satisfied with the The Survivalist (Anarchy Rising), send it back, and I'll refund your money, no questions asked.
Arthur T. Bradley, Ph.D.
Buy Book, $10.95, Free S/H
Feel free to send me questions or comments about this book, the handbook, or disaster preparedness in general.