Description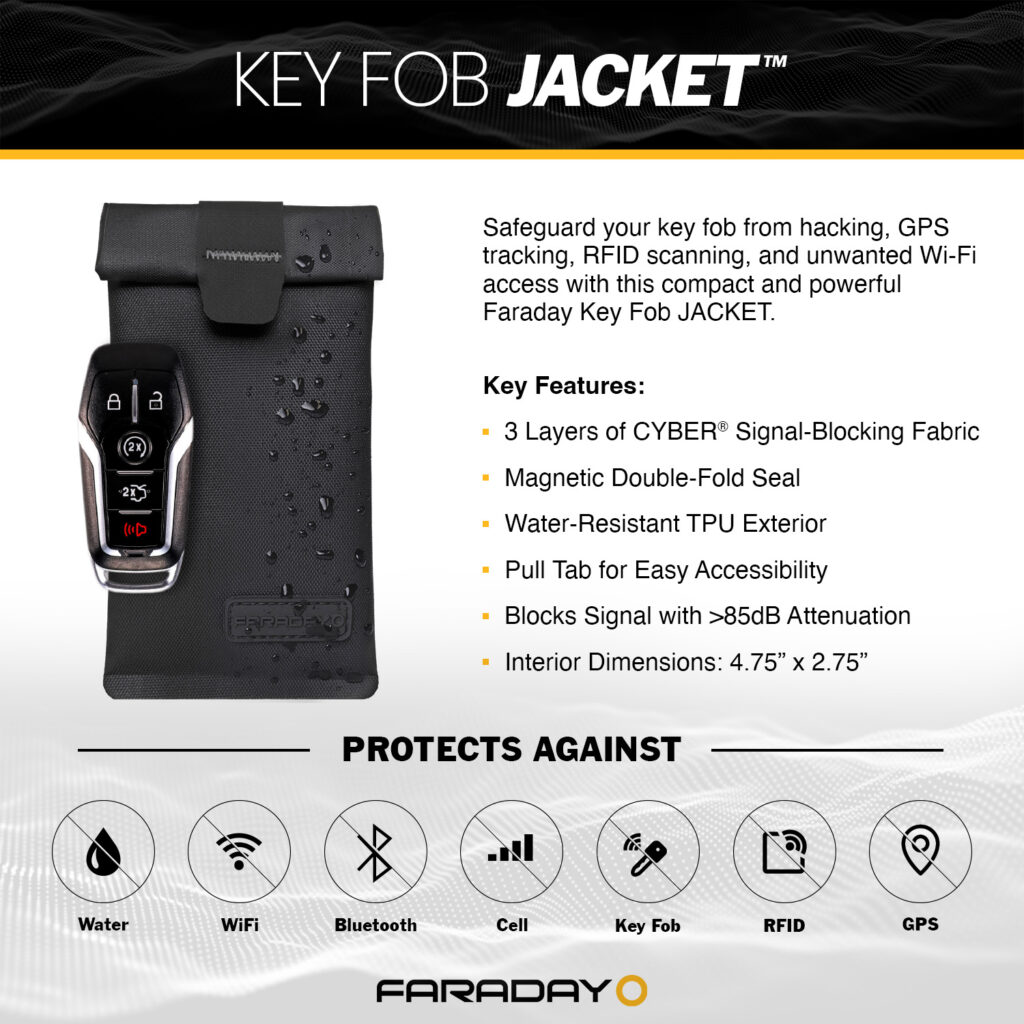 The JACKET Key Fob Faraday bag by Faraday Defense is an effective signal-blocking key fob bag. We are taking shielding to the next level with triple layers of >85 dB (400Mhz-4Ghz) CYBER® NC fabric along with an outer layer of durable, water-resistant TPU, ensuring that your device is protected from key fob signal-boosting car theft. Our secure, double-fold, magnetic closure is easy to open for quick access to your keys. The slim profile expands to accommodate bulky key fobs and key chains, and can also be used for USBs, SSDs, and credit cards. When your keys and other devices are in the bag, their identity is protected.
❌BLOCK SIGNAL: Blocks Key Fob Signal, Bluetooth, Wi-Fi, Cell Signals (incl. 5G networks), GPS and RFID.
❌CYBER BLOCKING: The Key Fob JACKET is equipped with three layers of specially designed cyber fabric that employ Faraday technology, creating a barrier against electromagnetic signals and preventing unauthorized access to your key fob. This bag effectively blocks communication of signals to and from your device with >85 attenuation (400Mhz-4Ghz).
The JACKET Key Fob Faraday Bag by Faraday Defense is designed for UNIVERSAL shielding of key fobs, and is also effective for credit cards, small hard drives, and USB drives. It blocks the following common signals: Cell Towers, GPS, RFID, Bluetooth, and Wi-Fi.
Size: 4.75″ x 2.75″ interior
Additional features include:
Three layers of CYBER fabric
Water-resistant TPU outer layer
High-quality exterior construction and durability
Secure, double-fold, magnetic closure
Low profile design